Visit the Service Center at Don McGill Toyota to find out why drivers in the Houston area are returning customers! 
Located in Houston, TX, Don McGill Toyota Service Center only employees the most professional technicians to service your Toyota model. We strive for excellent, fast and friendly expert care. We understand that your vehicle is an investment worth protecting, so our service team is here to take care of you and your vehicle! From routine maintenance to major repair, our trained service technicians will take care of you to get you back on the road quickly and safely. It's the Don McGill Toyota Lifetime Commitment to all our customers in the Houston, Cypress, Sugar Land, and surrounding areas. Our Toyota service center offers convenient service hours and a large comfortable waiting area. Coffee and refreshments are complimentary. We have an enclosed service drive so you have comfort and convenience no matter what the weather. Call us at 281-496-9730 for an appointment or Schedule the Right Service Online today. 
Complimentary Coffee and refreshments. 
Relax in a large comfortable waiting area and enjoy a snack while you wait.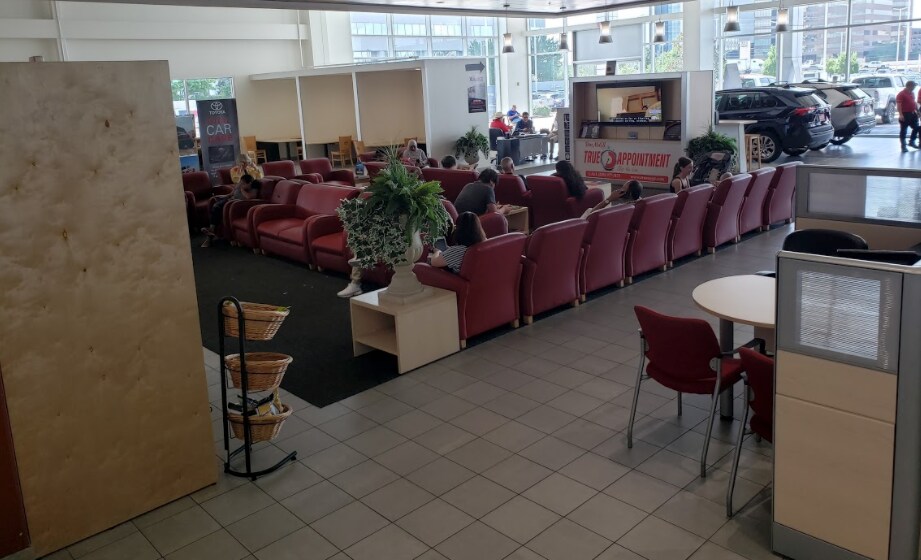 We have an enclosed service drive so you have 
comfort and convenience no matter what the weather with Express True Appointment Service.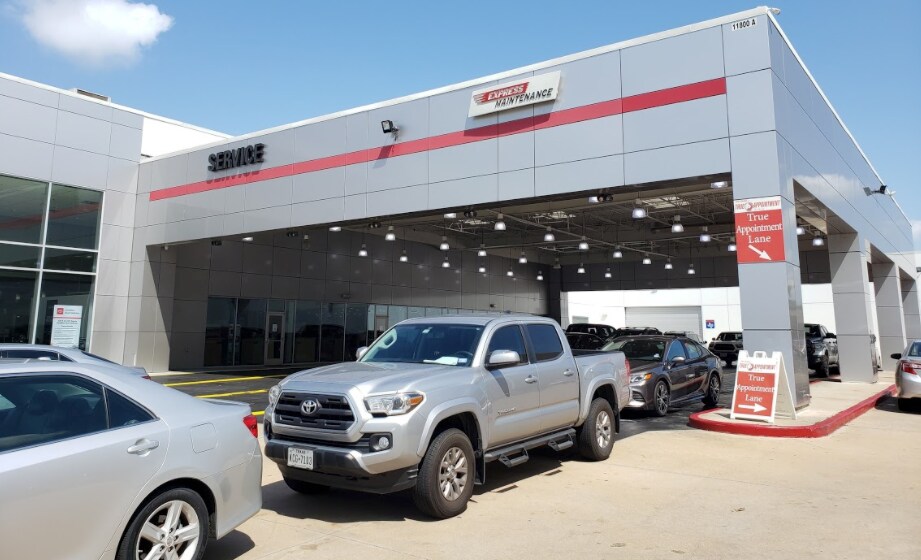 At Don McGill Toyota, 
factory-trained and certified technicians
 will fix it right the first time. In addition to passing 
the rigorous Toyota Certification Program, many of our technicians are also certified by the National Institute for 
Automotive Service Excellence (ASE)
 and they use state-of-the-art equipment and tools designed especially for your Toyota. Our list of services includes brake adjustments, engine tune-ups, oil changes, and many other checkups and fixes. You can even turn to us for a thorough wash, wax, and interior cleaning! As a Toyota dealer, we are also recognized as a Toyota Certified Collision Center! That means your new Toyota will get the appropriate attention it needs. In fact, our team utilizes Toyota genuine parts to ensure that your model retains its value and warranty. 
Testimonial
"Great service. They kept me posted through the whole process, which I really appreciated it. They emailed me through everything. My vehicle was returned in excellent conditions, better than before and also sparkling clean, even the wheels were buffed and shiny. Recommend 100%. Also shout out to Taylor, she was really kind and helpful, listening to me and my concerns."
         -- Maria Gutierrez
"Great Customer Service "
 

- BlueEagle1

 

I've always loved Toyota but my recent visit confirmed the service that they've been known for. The staff ensures that you are taken care of, explain things to you, and are patient with customers.




Helpful Hints for Toyota Owners
The

 most important thing you can do to keep your Toyota running well is to change the engine oil on schedule.

Replace worn out wiper blades will ensure that you have a clear view of the road under all conditions.

Periodic brake inspections at regular intervals according to your Toyota's recommended maintenance schedules insures longevity to components and safe brake performance.

Keep an eye on tire pressure - losing just a few pounds of pressure in your tires can hurt fuel economy and shorten tire life.

Read your Toyota Owner's Manual. It will tell you everything you need to know about your vehicle.
Tires
We recommend that tires be rotated every 3,000 to 5,000 miles even if they don't show signs of wear. Tire rotation can often be done with oil change intervals while the vehicle is off the ground. This can also be a good time to have your tires rebalanced. It's also a good time to inspect the tires for any damage, remove stones or debris from the tire treads, check for uneven wear by checking the tire tread depth and of course, checking your tire pressure. It is an advantage when all four tires wear together because as wear reduces a tire's tread depth, it allows all four tires to respond to the driver's input more quickly, maintains the handling and helps increase the tire's cornering traction.
Shop Tires
at Don McGill Toyota! 
Air Filters
Genuine Toyota air filters are engineered specifically for your Toyota to provide exceptional filtering efficiency, improved engine performance, and noise-dampening capabilities. They trap dirt and contaminants before they reach your engine, where they can cause wear and reduce performance. Replace your engine air filter every 30,000 miles or 36 months. If you operate your Toyota under special operating conditions, we recommend inspection every 15,000 miles or 18 months.
Synthetic Motor Oil
Today's sophisticated engine systems require a lubricant designed specifically for improved engine performance, increased fuel efficiency and reduced engine deposits. Many new Toyota models are certified for a new zero weight synthetic lubrication standard (SAE 0W-20). Our 0W-20 oil is low-viscosity synthetic oil formulated to provide uniform lubrication and reduce friction throughout the engine. Lighter than conventional engine oil, 0W-20 evenly and uniformly bathes your engine's moving parts, which means less wear and tear, better thermal stability and increased engine efficiency.
Need Parts?
Don McGill Toyota
is a distributor of
factory-certified Toyota parts and accessories
. Genuine or "OEM" Toyota parts are specifically designed to provide the safety and service life you expect from Toyota. Genuine Toyota parts - don't settle for less. The Don McGill Toyota Service Center is
located at 11800 Katy Freeway Service Rd in Houston, TX,
 and offers the following: convenient hours, genuine Toyota replacement parts and Toyota factory accessories. 
We look forward to serving you here at the Don McGill Toyota Service Center!