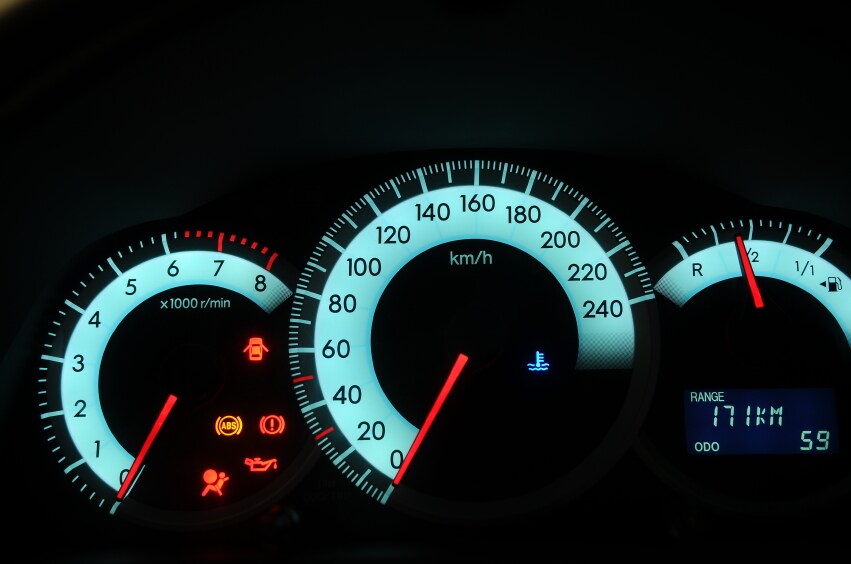 Schedule Service
Order Parts
What Do Those Dashboard Lights Mean?
At Don McGill Toyota, we want you to always be confident with how your vehicle is performing, and a big step in that is to help you understand what the lights on your dashboard really mean. Many people panic when they see lights turn on, but not all of the lights are bad, and we want you to be comfortable in your vehicle no matter which lights come on. Some lights require immediate attention, others are indicating that a system is being used, and others are a reminder of something you need taken care of; our team is here to help you distinguish between them.
 


ABS Warning Light

    
Charging System Warning Light

    
Cruise Control Indicator
    
Electric Power Steering
    Headlight Indicator (USA)




 

 

 

 

High Beam Headlight Indicator 

 Indicates a flaw in the ABS or Assisted Brake system.
 Indicates a flaw in the vehicle's charging system.
 Indicates that cruise control has been activated.
 Indicates a defect in the EPS system.
 Indicates that the side marker, parking, tail, license plate, instrument panel and headlights have been turned on.
Indicates that the high beam headlights have been activated. 

 

  Low Engine Oil Pressure Warning
  Low Fuel Level Warning Light
  Low Washer Fluid Warning Light
  Maintenance Reminder

 

  Security Indicator
  Slip Indicator
 Indicates that the engine oil pressure is too low.
Indicates low fuel level. 
 Indicates a low level of washer fluid.
 

Indicates that maintenance is required according to the driven distance on the maintenance schedule.

 Starts flashing to indicate the security system is activated.

 

If the vehicle is in danger of slipping or if any of the drive wheels spins, the slip indicator light flashes to indicate that the VSC/TRAC systems are operating. 

 

Decoding the Colors

One way to tell what a light means is to see the color that the light is. With the advanced systems that Toyota has included, you are given some help to realize what these lights mean without having specific knowledge of it. Normally, a blue or green light isn't serious, and are showing information that isn't a concern - like the high beam light showing the fact that your high beams are on. Yellow, orange, or red lights should raise a little concern, especially if they are flashing; when you experience any lights like this, bring your vehicle to our Toyota Service Center to be taken care of.

Finding the Meaning

There are many different lights to keep track of, which is why we want to help you realize or remember what they all mean. Many lights do a good job of showing what the problem is - a battery shaped light is a problem with your battery - but others might be a little more confusing -  a steering wheel with an exclamation point noticing a problem with your electric power steering. Don't feel bad if you can't understand what a light means, just be sure to get it taken care of quickly so that no major problems occur!