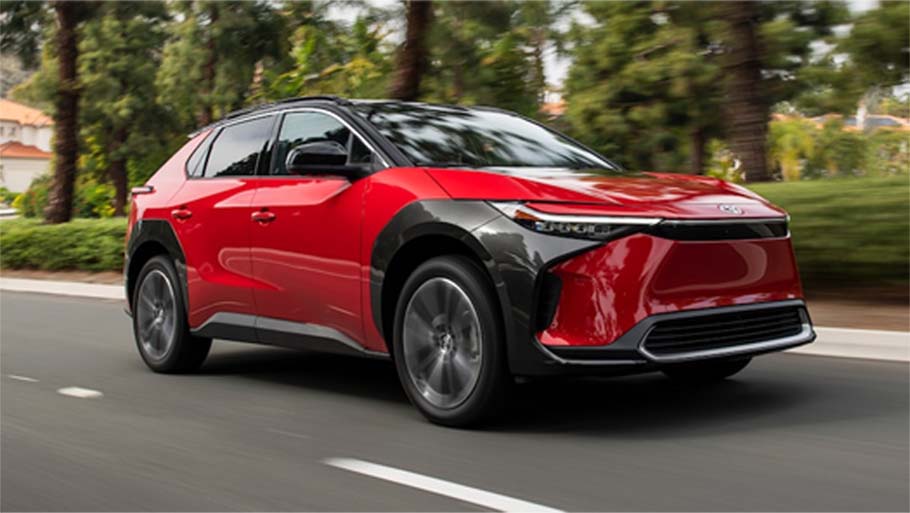 Introducing the bZ4X, the first vehicle of Toyota's "Beyond Zero" line up. This is the next step in Toyota's electrification journey. The inspiring innovation of this modern SUV does more than help us imagine a better future; it puts it within reach. This means not only reducing our carbon footprint to zero, but also going beyond, to create a net positive impact.
Technology
Drawing on almost 25 years of experience in battery technology, the Toyota bZ4X can deliver more than 250 miles on a single full charge. The bZ4X boasts the same reliability as any other Toyota and is backed by a 10-year warranty, so you enjoy complete peace of mind.
Even after 10 years, the battery in the bZ4X will still be able to achieve a world-class 90% of its original performance.
Maximize your range with the available solar panel roof. These panels will capture enough energy for about 1000 miles of driving range per year.
Three charging options offer drivers flexibility; use rapid public charging and achieve an 80% charge in around 60 minutes or plug into a standard home socket or an available Toyota wall box at home.
Design
More than environmentally conscious, bZ4X makes an impact with its striking design. The bZ4X combines the sleek and advanced look of an electric vehicles with confident SUV design. The result is an innovative electric vehicle that performs on all roads, turning heads where it goes.
Interior
With the roominess one would expect from an SUV, the bZ4X interior offers a spacious and relaxing seat for passengers. The driver-centric design makes you feel like you're one with the car. Soundproofing glass and wind-noise reduction features create a quiet refuge from the world outside.
The unique instrument panel and precision-placed MID screen expands the vehicle's feeling of space, while also helping to keep driver's sight lines up and on the road.

The available panoramic roof provides a feeling of openness and brings the outside environment into the vehicle. Passengers will feel pampered, with abundant legroom for front and rear seats as well as copious side-to-side space in the rear.

A sleek 12.3-inch touchscreen display with standard wireless Apple CarPlay® / Android Auto™ connectivity, five USB ports, and Qi wireless charging puts all your system's controls within reach.